Balance Weave Mesh Belt
Balance Weave Mesh Belt is also called Balanced Mesh Belt or Conveyor Belt Wire Mesh
Balance Mesh Belt is our most economical mesh styles available and most versatile for many applications. Conveyor Belt WIRE MESH is the most commonly used wire mesh conveyor belt worldwide including many food processing applications (from draining to cooling) as well as industries ranging from ceramic, glass and metalworking. For medium temperature and load conditions, these belts are very economicaland will fit well into any company's budgets. Where a job demands small pulleys, this is the style for you.
Stainless steel mesh belt

- Chain: C2062SS, SUS 304material
- Material: Stainless SUS 304
- Used in Tempurature: -400C - 2400C
- Spring wire: 1.2mm, pitch 8mm
- Rod wire: 1.5mm, pitch 12mm, net space 10.5mm
- Width: 10cm - 250cm or other size
- Length: no limit.
- Chain Rods distance 145mm
Capacity: 100meters per day.
Rich experience over 10 years in making such mesh belt.
Exported over 50000 square meters last year to Europe, North America,Aisa and Middle east.
Give us a chance, we give you a surprise.
Balance Weave Mesh Belt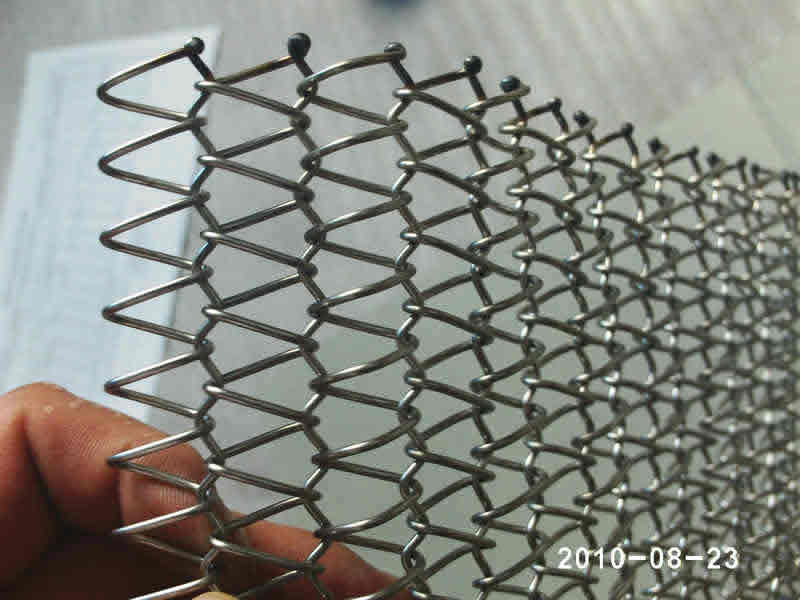 Conveyor Belt Wire Mesh