Demister (also is known as mist eliminator, Demister Pads) is a highly efficient gas-liquid separation device.
Material: Stainless Steel, Plastic, Teflon, Fiberglass co-knit stainless steel wire
Features:
1. High collection efficiency of up to 99% of fluid at velocity of 1 to 8m/sec
2. Provides free area of up to 98% for operation and low pressure drop (0.1" ~ 1.0" W/G)
3. A variety of materials in accordance with temperature and corrosion resistance
4. Easy to install by using manhole. Usable without any restriction and replaceable with existing facilities
5. Designed for self - cleaning (semi - permanent and economical)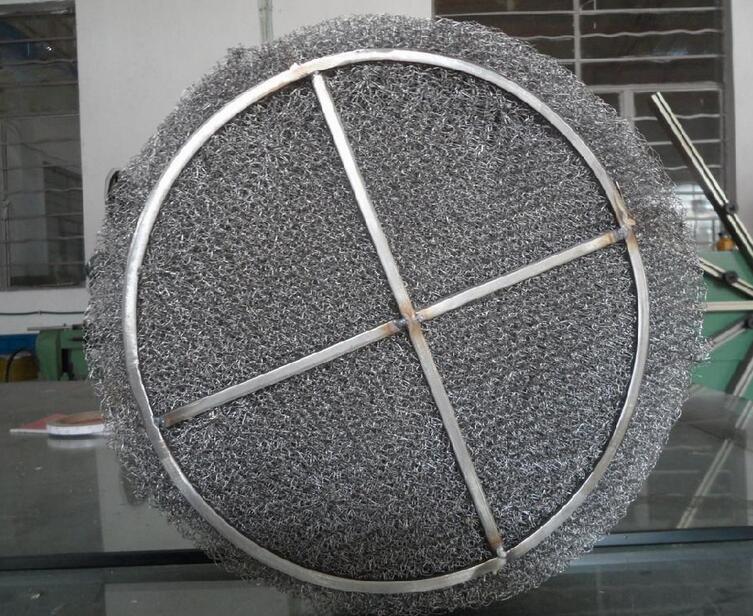 1st Generation: Standard Type(98standard preparing company)
Feature: small volume, light weight, small resistance
HG5-1404-81 Exit tube type wire demister
HG5-1405-81 reducing wire demister
HG5-1406-81 full wire demister
Diameter:300-640mm, total 136 specifications
2nd Generation: Drawer type(Patent No. ZL93 2 46402.5), feature as following:
a.no need to enter into tower to clean, repair, or replace.
b.Easy clean, long life, stable performance
c.Short repairing time, low cost, simple structure
d.Blind plate can be installed to meet low load operation, increasing adaptability and application range.
3rd Generation : V type(patent no. ZL97.2.36744.6)
Besides features of 1st and 2nd generation, it also including
a.Gas and liquid has their each path, avoiding re-entrainment and increasing efficiency.
b.The V structure increases mist removing surface by 15%
c.One layer V type demister can work with same performance of 2 layers common demister, saving installation space and cost.
316L, NS-80, or F46,PP materials can be used according to customer condition.
Pattern
Specification
Standard type
40-100 60-150 105-300 140-400 160-400 210-570 252-800 330-1050
Highly effective
60-100 80-100 80-150 90-150 800-400
150-300 200-400 300-600 800-400
High penetration
20-100 30-150 70-400 170-560 170-600
Absorption of shock
30-30 33-30 20-40 26-40 30-40 38-40

30-50 48-50 30-60 30-80 40-80 40-120 50-120