A gabion (from Italian gabbione meaning "big cage"; from Italian gabbia and Latin cavea meaning "cage") is a cage, cylinder, or box filled with rocks, concrete, or sometimes sand and soil for use in civil engineering, road building, and military applications. For erosion control, caged riprap is used. For dams or in foundation construction, cylindrical metal structures are used. In a military context, earth- or sand-filled Gabions are used to protect artillery crews from enemy fire.
Gabions WIRE MESH welded or weaved into the form of boxes or cages, square hole or hexagonal hole structure, Galfan, zinc coating, electro galvanized and green plastic coated.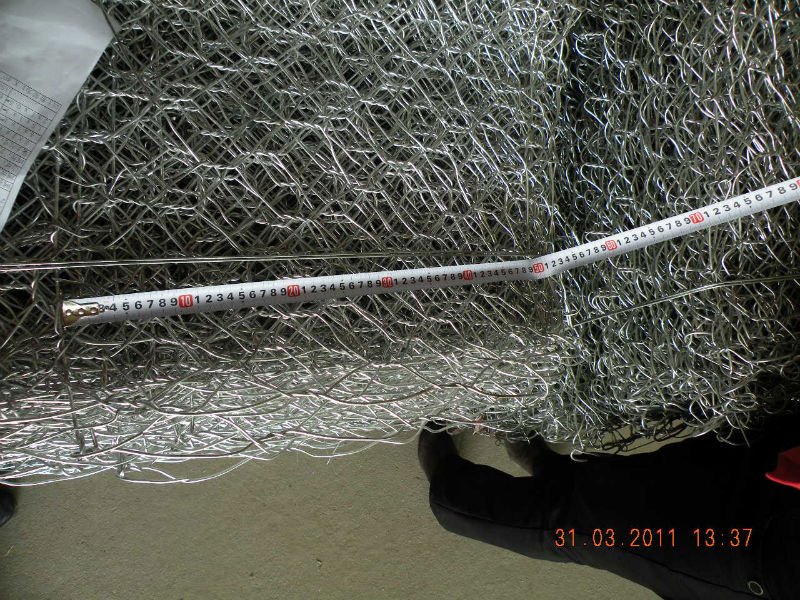 The protective coating is typically either:

heavily zinc galvanised wire
as above PLUS heavy duty PVC coating
galmac (galfan) coated with a 95%Zinc + 5% Aluminium Mischmetal Alloy
as above PLUS heavy duty PVC coating

Testing and acceptance:
Material used for production of wire is mild steel as per BS-1052/80 or ASTM-241-92 Class 3 having tensile strength of 350mpa to 500 Mpa. Minimum elongation of 10% at breaking load performed on gauge length of 250mm
Coating: all the wires are heavily zinc coated with hot dipped galvanization process according to ASTM/A-641-82 BS 443-82 with min. zinc coating of 240gms per square meter for the wire of dia 2mm) additional coating of PVC shall be provided.
Gabion wire size example: Gabion wires with tensile strength 38 - 55kg/mm² according to BS1052 & Zinc coating layer 260 - 300grm/m² according to BS443, mesh wire 2.7mm, selvage wire 3.4mm, and lacing (tie) wire 2.4mm. with gabion cells 60 × 60 × 30 cm, opening 30 mm.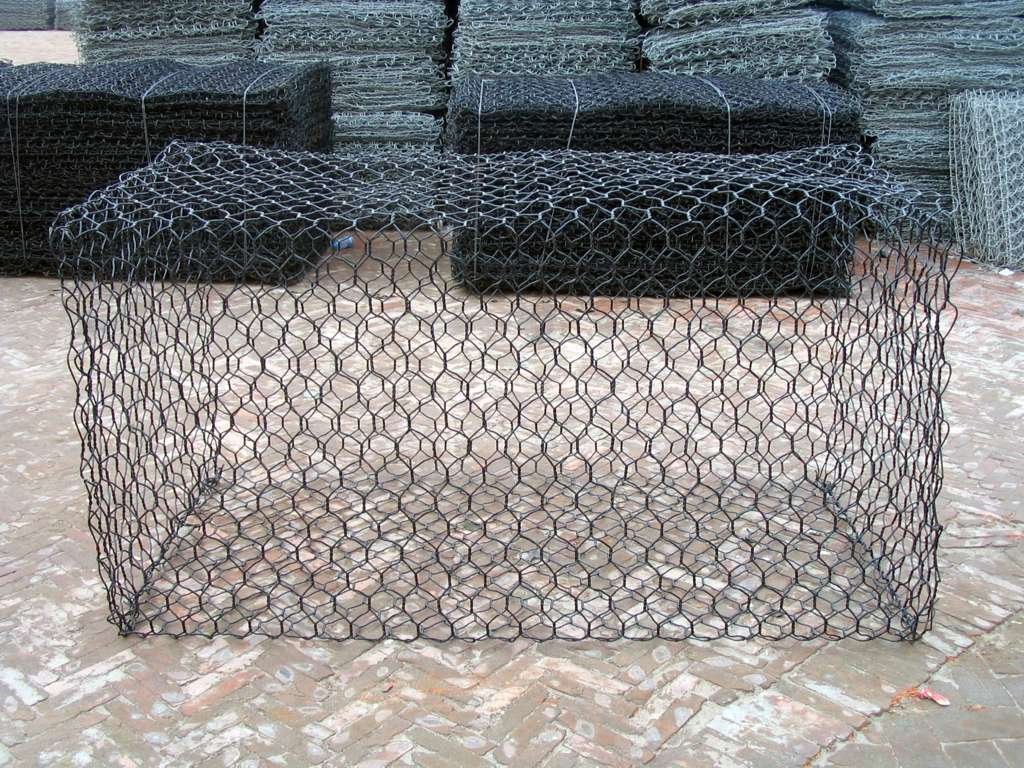 We one of the leading manufacturers and suppliers of Gabion Basket by using modern tools and technology. We also manufacturer of PVC Mesh,Welded Mesh, Hexagonal Mesh(Chicken Mesh), Chicken Mesh, Plastic Mesh, Corner Bread Mosquito Mesh, Pvc Coated Wire, Poultry Cage Mesh, Building Protection Mesh, Nylon Mesh. SOD STAPLES , Florist Wire , Tie Wire , Barbed Wire Razor Barbed Wire , Mossing Pegs ,Golf Practice Netting,Baseball nets,Knotless Netting,Anti Bird Netting,Construction safty nets,Sun shade nets,Knotted Netting, METAL MESH belt,Stainless Steel Wire Mesh,Brass mesh,Perforated mestal,Expanded Metal,filter meshWire mesh Demister ,Stainless Steel Cable Mesh .

We make use of best quality raw material, These are offered at competitive price, Large air flow & low resistance Temperature & moisture resistance High acid & alkali resistance Can be washed repeatedly High Filtration Capacity.

Need help with your manufacturers and suppliers of Gabions, Heavy Duty Galvanized Gabions, Hex Gabions project ? Wei Cai planning department with your project details and let us help you lay out your Gabions, Heavy Duty Galvanized Gabions, Hex Gabions plan. We will help you calculate netting and hardware quantities and offer advice for proper installations.