Razor Wire is also called Razor Barbed Wire, Razor Barbed Wire is a modern security fencing product.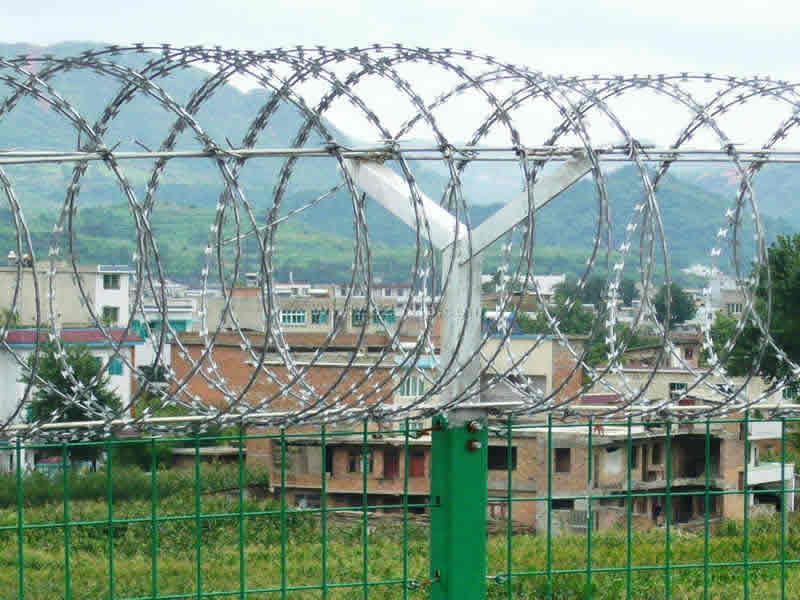 Razor barbed wire produced with sharp razor steel blade and high-tensile wire.
Barbed Tape can be installed to fright and stop the aggressive perimeter intruders, wih piecing and cutting razor blades mounted at the top of the wall, also the special designs make climbing and touching extremely difficult.
The Wire and Blade are galvanized to make Razor Barbed Wire anti-corrosion.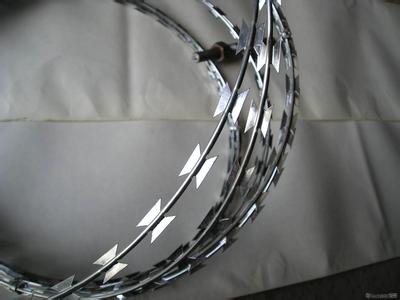 Galvanized Razor Wire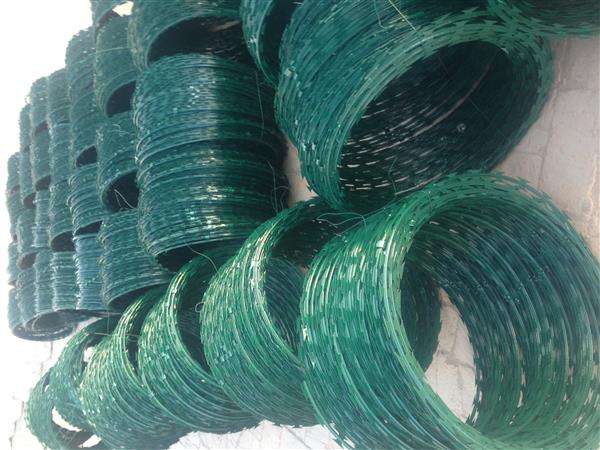 PVC Coated Razor Wire
Blade Size of the Razor Barbed Wire
Unit: mm
Barbed Tape Concertina (CBT);Barbed Tape Obstacle (BTO)
Reference Number
Blade Style
Thickness
Wire Dia
Barb
Length
Barb
Width
Barb
spacing
BTO-10
0.5±0.05
2.5±0.1
10±1
13±1
26±1
BTO-12
0.5±0.05
2.5±0.1
12±1
15±1
26±1
BTO-18
0.5±0.05
2.5±0.1
18±1
15±1
33±1
BTO-22
0.5±0.05
2.5±0.1
22±1
15±1
34±1
BTO-28
0.5±0.05
2.5±0.1
28±1
15±1
45±1
BTO-30
0.5±0.05
2.5±0.1
30±1
18±1
45±1
CBT-60
0.6±0.05
2.5±0.1
60±2
32±1
100±2
CBT-65
0.6±0.05
2.5±0.1
65±2
21±1
100±2
| | | | | |
| --- | --- | --- | --- | --- |
| Outside Diameter | No. of Loops | Standard Length per Coil | Type | Notes |
| 450mm | 33 | 7-8M | CBT-60.65 | Single coil |
| 500mm | 56 | 12-13M | CBT-60.65 | Single coil |
| 700mm | 56 | 13-14M | CBT-60.65 | Single coil |
| 960mm | 56 | 14-15M | CBT-60.65 | Single coil |
| 450mm | 56 | 8-9M (3 CLIPS) | BTO-10.12.18.22.28.30 | Cross type |
| 500mm | 56 | 9-10M (3 CLIPS) | BTO-10.12.18.22.28.30 | Cross type |
| 600mm | 56 | 10-11M (3 CLIPS) | BTO-10.12.18.22.28.30 | Cross type |
| 600mm | 56 | 8-10M (5 CLIPS) | BTO-10.12.18.22.28.30 | Cross type |
| 700mm | 56 | 10-12M (5 CLIPS) | BTO-10.12.18.22.28.30 | Cross type |
| 800mm | 56 | 11-13M (5 CLIPS) | BTO-10.12.18.22.28.30 | Cross type |
| 900mm | 56 | 12-14M (5 CLIPS) | BTO-10.12.18.22.28.30 | Cross type |
| 960mm | 56 | 13-15M (5 CLIPS) | BTO-10.12.18.22.28.30 | Cross type |
| 980mm | 56 | 14-16M (5 CLIPS) | BTO-10.12.18.22.28.30 | Cross type |