316 X-Tend Flexible Stainless Steel Cable Mesh
stainless steel security window screen mesh ,Rope Mesh Stainless Steel,stainless steel flexible wire mesh netting
The stainless steel knotted rope mesh ismainly used as zoo mesh and aviary mesh.
Stainless steel ferrule rope mesh is mainlyused as green wall, balustrade mesh, helideck mesh and suspension bridgerailing mesh.
Stainless steel square rope mesh is mainlyused as slope protection rope mesh and decoration mesh.
Our stainless steel rope mesh is your bestchoice for the reasons below:
Stable quality.
We believe in the principle "HighQuality Wins Trust". Our stainless steel rope mesh is made of high qualitystainless steel ropes. Besides, we have our own quality testing equipment andengineers.
High technology.
We have advanced facilities. And we havebeen engaged in R&D and technology innovation in recent years. We aredevoted to manufacturing perfect stainless steel rope mesh.
Competitive price.
Our products are not the cheapest. However,we have the lowest price at the same quality compared with other similarproducts.
Excellent after-sale service.
We are full of passion and honesty to ourcustomers. We will provide you with the complete instructions about thechoosing mesh variety, rope diameter, opening size, installation and repair.
Stainless Steel Ferrule Rope Mesh with HighFlexibility
Stainless steel ferrule rope mesh, alsocalled stainless steel ferruled rope mesh, is almost similar to stainless steelknotted rope mesh in physical properties. And the only difference is that thetwo neighboring ropes of stainless steel ferrule rope mesh are combined byferrules to form diamond openings. And ferrules are made of the same materialas the rope wire. The standard angle is 60°, but other angles are alsoavailable, such as 10° and 90°. Stainless steel ferruled rope mesh is veryflexible, and its width and length can be modified. Therefore, it is widelyused in various fields of our daily life, such as stainless steel rope meshgreen wall and stainless steel balustrade mesh.
MWN professional in manufacturing stainless steel rope mesh which is made from high quality 304, 316, 304L and 316L. The stainless steel rope mesh of our company is soft but strong, resistant to corrosion and rust, environmentally friendly and maintenance-free. Besides, it is very flexible in the rope diameter, mesh size and opening size. Above all, its work life is more than 30 years though it is exposed to sunlight and rain. Stainless steel rope mesh includes four kinds: stainless steel knotted rope mesh, stainless steel ferrule rope mesh, stainless steel square rope mesh and anti-theft backpack protector.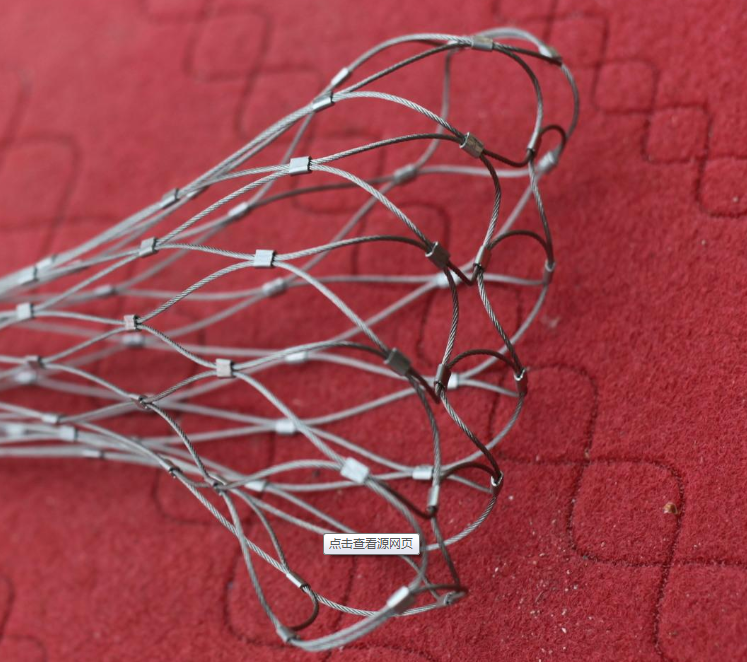 Features:
Light weight and high flexibility.
Stainless steel ferrule rope mesh is light,and its width, length, rope diameter and opening size can be modified. What'smore, diagonal and irregular shapes are also available. So stainless steelferrule rope mesh is easy to install in any conditions and it is widely used inmany places.
High strength, resistant to fatigue andimpact.
Ferrules combine stainless steel ropesfirmly, making the mesh form a strong whole. Therefore, stainless steel ferrulerope mesh is resistant to fatigue and impact.
Good softness.
The rope construction is 7 × 7 or 7 × 19,making stainless steel ferrule rope mesh very soft. Therefore, it can be curvedand folded easily, which makes it effortless to transport. And this propertyalso makes it easy to install. Above all, it will not hurt hands.
Excellent rust-resistance, recyclable anddurable.
Stainless steel ferrule rope mesh is madeup from 304, 316, 304L or 316L, so it is resistant to rust. Its life span canbe up to more than 30 years as a result.
Outstanding perspectivity and grandappearance.
Stainless steel ferrule rope mesh hasdiamond-shaped openings and ferrules, making it have great perspectivity andpretty appearance. Therefore, it is widely used as bird aviaries, animalenclosure, animal cages, building decoration and so on. And the stainless steelferrule rope mesh itself is a big landscape.
Maintenance-free and environmentallyfriendly.
There is no toxic material in stainlesssteel ferrule rope mesh. With time going by, it will not rust and deform.Therefore, there is no need to maintain it. Once it is installed, it can beused forever.
Looking for ideal Stainless Steel Security Window Screen Mesh Manufacturer & supplier ? We have a wide selection at great prices to help you get creative. All the Rope Mesh Stainless Steel are quality guaranteed. We are China Origin Factory of Stainless Steel Flexible Wire Mesh Netting. If you have any question, please feel free to contact us.
Product Categories : Mesh Products > Stainless Steel Cable Net