MWN professional in manufacturing stainless steelrope mesh which is made from high quality 304, 316, 304L and 316L. Thestainless steel rope mesh of our company is soft but strong, resistant tocorrosion and rust, environmentally friendly and maintenance-free. Besides, itis very flexible in the rope diameter, mesh size and opening size. Above all,its work life is more than 30 years though it is exposed to sunlight and rain.Stainless steel rope mesh includes four kinds: stainless steel knotted ropemesh, stainless steel ferrule rope mesh, stainless steel square rope mesh andanti-theft backpack protector.
The stainless steel knotted rope mesh ismainly used as zoo mesh and aviary mesh.
Stainless steel ferrule rope mesh is mainlyused as green wall, balustrade mesh, helideck mesh and suspension bridgerailing mesh.
Stainless steel square rope mesh is mainlyused as slope protection rope mesh and decoration mesh.
Flexible Stainless Steel Cable Mesh,inter-woven type in particular, is usually used in animal or bird cages, whichis also called zoo mesh.The mesh has strong tensile strength and highflexibility,high transparence and wide span. The flexible s.s. cable mesh hasunreplacable advantages compared with other Mesh Products in many aspects likepracticability, security, aesthetic property and durability etc.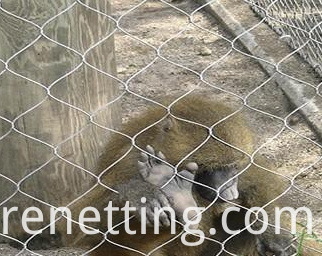 To high-strength wire rope flexible net(diamond-shaped wire rope, ring network, high-strength steel wire grille) asthe main component. And supplemented by bolts, support rope and otheraccessories constitute the entire system. To cover, tighten the slope of theway to control slope rock collapse, roll down, blasting and other hazards. Thesystem through the company's technology research and development personnel todevelop and test improvements, so that the technology has been very gooddevelopment and application. Its mature flexible protection concept, perfectconstruction application technology, standard modular operation, so that SNSflexible active protection system in the prevention and control of slopegeological disasters have been large-scale application. The principle of systemprotection is similar to that of spalling anchor and soil nailing wall.
However, because of its flexible characteristics, the system can distribute thelocal concentrated load to the surroundings to fully exert the protectivecapacity of the whole system, that is, the local load and the whole action , So that the system can withstand greaterload and reduce the anchor force of a single anchor requirements. In addition.Due to the openness of the system, the groundwater can be freely drained,avoiding the problem of slope instability caused by the increase of groundwaterpressure. The system has some contribution to the stable slope, but also caninhibit the slope from further weathering And the characteristics of the slopehave no special requirements on the slope shape characteristics. The originalfeatures of the slope and the growth conditions of the vegetation are notdestroyed and changed. The open characteristics are reserved for the subsequentor future conditions.
Looking for ideal Flexible Stainless Steel Cable Mesh Manufacturer & supplier ? We have a wide selection at great prices to help you get creative. All the Ss304 Wire Mesh Basket are quality guaranteed. We are China Origin Factory of Stainless Steel Protective Cable Mesh. If you have any question, please feel free to contact us.
Product Categories : Mesh Products > Stainless Steel Cable Net