The Stainless Steel Wire Rope Fence Mesh ferrule type is rhombus mesh, has excellent flexible performance, virtually indestructible, most impacting-resistant and breaking resistant force, most resisting rain, snow and hurricane.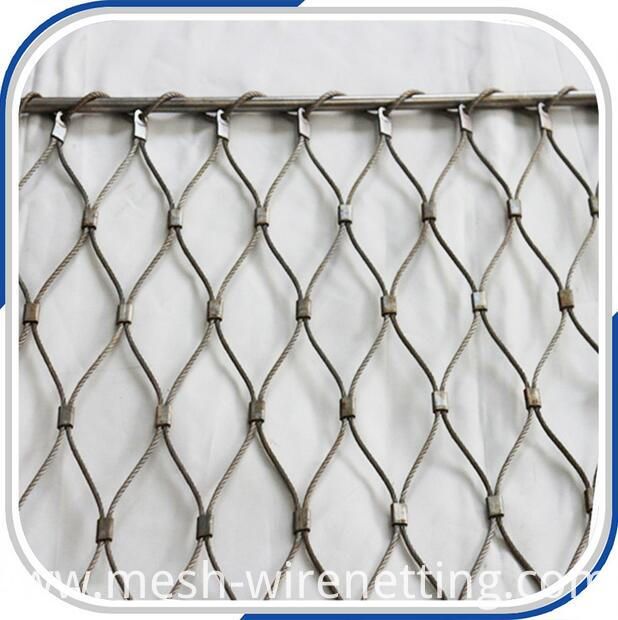 As the material is virtually indestructible stainless steel, then it can be safely contain any species on land, in the air indoors or out. For the weave opening, we can infinitely customizable to meet your exhibits exact specifications and we assure their complete security.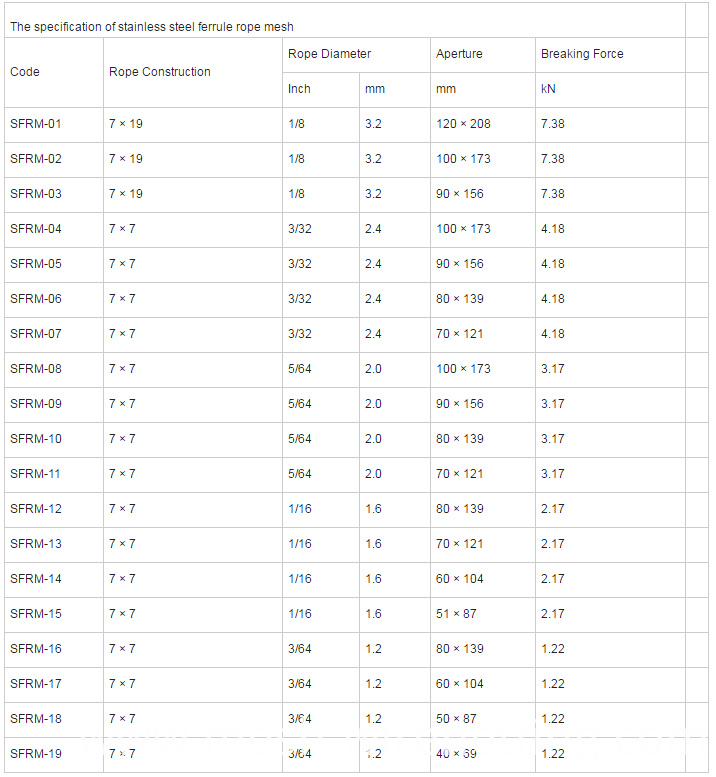 Flexible Stainless Steel Cable Mesh,inter-woven type in particular, is usually used in animal or bird cages, whichis also called zoo mesh.The mesh has strong tensile strength and highflexibility,high transparence and wide span. The flexible s.s. cable mesh hasunreplacable advantages compared with other Mesh Products in many aspects likepracticability, security, aesthetic property and durability etc.
Light weight and high flexibility.
Stainless steel ferrule rope mesh is light,and its width, length, rope diameter and opening size can be modified. What'smore, diagonal and irregular shapes are also available. So stainless steelferrule rope mesh is easy to install in any conditions and it is widely used inmany places.
High strength, resistant to fatigue andimpact.
Ferrules combine stainless steel ropesfirmly, making the mesh form a strong whole. Therefore, stainless steel ferrulerope mesh is resistant to fatigue and impact.
Good softness.
The rope construction is 7 × 7 or 7 × 19,making stainless steel ferrule rope mesh very soft. Therefore, it can be curvedand folded easily, which makes it effortless to transport. And this propertyalso makes it easy to install. Above all, it will not hurt hands.
Excellent rust-resistance, recyclable anddurable.
Stainless steel ferrule rope mesh is madeup from 304, 316, 304L or 316L, so it is resistant to rust. Its life span canbe up to more than 30 years as a result.
Outstanding perspectivity and grandappearance.
Stainless steel ferrule rope mesh hasdiamond-shaped openings and ferrules, making it have great perspectivity andpretty appearance. Therefore, it is widely used as bird aviaries, animalenclosure, animal cages, building decoration and so on. And the stainless steelferrule rope mesh itself is a big landscape.
Maintenance-free and environmentallyfriendly.
There is no toxic material in stainlesssteel ferrule rope mesh. With time going by, it will not rust and deform.Therefore, there is no need to maintain it. Once it is installed, it can beused forever.
Looking for ideal Stainless Steel AISI316 Cable Mesh Manufacturer & supplier ? We have a wide selection at great prices to help you get creative. All the Stainless Steel Cable Rope Balustrade Mesh are quality guaranteed. We are China Origin Factory of X-tend Ferruled Stainless Steel Cable Mesh. If you have any question, please feel free to contact us.
Product Categories : Mesh Products > Stainless Steel Cable Net